Search results
Infants' Mylicon Gas Relief, Dye Free, Drops - 1 Each , $10.49
In Each 0.3 mL: Other Information: Tamper Evident: Do not use if printed seal under cap is broken or missing. Store between 20 - 25 degrees C (68 - 77 degrees F). Do not freeze. See bottom panel for lot number and expiration date.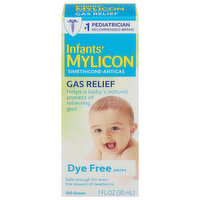 Infants' Mylicon Gas Relief, Dye Free, Drops - 1 Each
Open Product Description
Mommy's Bliss Gripe Water, Original - 4 Fluid ounce , $12.99
No. 1 selling brand. Relieves occasional stomach discomfort from: gas; colic; fussiness; hiccups. Free of dyes, alcohol & parabens. 24 Servings. No-spill syringe/adapter. Gripe Water Original is an herbal supplement used to help ease gas and stomach discomfort often associated with colic and hiccups. Fennel & ginger extracts. Safe & gentle. 100% Vegetarian & vegan. No refrigeration needed. No alcohol or parabens. No artificial flavors or colors. For moms, by moms. Our family-run company was founded by my mom, who raised three children while working as a nurse and certified midwife. Driven by compassion for other moms, she created Mommy's Bliss to safely and naturally bring families back to wellness. As a new mom myself, I understand how important it is to choose products that I trust to work effectively and safely and make my little ones happy! - Yasmin Kaderali - mom, daughter & CEO. Please recycle. Mommy's Bliss Foundation: Bliss for every baby. As moms, we know how much a helping hand is worth, and your purchase supports improving the health of 20,000+ children around the globe. Learn more at: www.mommysbliss.com/foundation. Women Owned and led.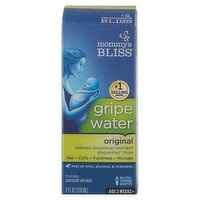 Mommy's Bliss Gripe Water, Original - 4 Fluid ounce
Open Product Description