Search results
Andalou Naturals Facial Mask, Hydro Serum, Brighten & Tighten, Instant - 6 Each , $4.29
Non GMO. Vitamin C brightening fiber sheet masks. Beauty is you. Non GMO project verified. Questions or comments? Talk to us at andalou.com. 97% nature derived. Verified gluten free. Vegan. Cruelty free. Travel friendly. Fruit stem cell science. Made in USA with domestic and imported materials.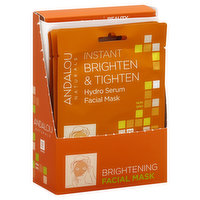 Andalou Naturals Facial Mask, Hydro Serum, Brighten & Tighten, Instant - 6 Each
Open Product Description
Neutrogena Hydrogel Mask, Hydrating - 1 Ounce , $4.19
New. Hyaluronic acid. Instantly quenches skin. Deeply hydrates. Leaves skin supple and hydrated. Single use mask. This innovative hydrogel mask, with hyaluronic acid, instantly quenches dry skin leaving it hydrated, smooth and supple. This is no ordinary sheet mask. This mask is made from a unique 100% hydrogel material. It contours to your skin and seals in the formula for optimal absorption to deliver clinically proven results. Your skin is left soft, hydrated and supple. Contains hyaluronic acid. Non-comedogenic. Gentle on skin. www.neutrogena.com. Questions? 800-582-4048; Outside US, dial collect 215-273-8755. Made in Korea.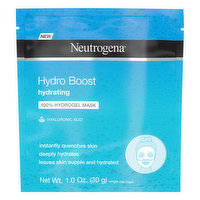 Neutrogena Hydrogel Mask, Hydrating - 1 Ounce
Open Product Description