Search results
Cutter Outdoor Fogger, Bug Control, Backyard - 16 Ounce , $11.99
Kills on contact! Backyard. Kills mosquitoes & other listed outdoor insects. Water based. Cutter: Treats up to 1,200 cu ft ( an area 8 ft x 10 ft x15 ft). For use in backyards, patios, decks & picnic areas. Kills annoying mosquitoes, gnats, flies, wasps, flying moths & ants (except carpenter, fire, pharaoh acid and harvester ants. www.cutterinsectrepellent.com. Questions or comments? Call 1-800-767-9927 or visit our website at www.cutterinsectrepellent.com. Contains no CFCs or other ozone depleting substances. Federal regulations prohibit CFC propellants in aerosols.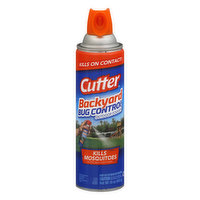 Cutter Outdoor Fogger, Bug Control, Backyard - 16 Ounce
Open Product Description
Hot Shot Fogger - 3 Each , $12.99
One can treats up to 2,000 cu ft. Controls heavy infestations. Kills roaches, fleas, ants (except fire ants), spiders & other listed insects. Won't leave a wet, messy residue. Quick Facts: Works in 2 hours. Non-staining, no messy residue. Coverage: Each can covers 2,000 cu ft of unobstructed space (15.5 ft x 16 ft with 8 ft ceiling). Do not use in rooms 5 ft x 5 ft or smaller. Instead, allow fog to enter from other rooms. Kills: Ants (except Fire Ants), Brown Dog Ticks, Crickets, Firebrats, Fleas, Flies, Gnats, Houseflies, Mosquitoes, Palmetto Bugs, Roaches, Silverfish, Spiders, Waterbugs. Does not control Bed Bugs.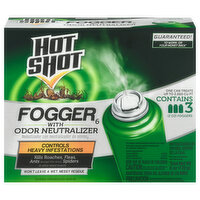 Hot Shot Fogger - 3 Each
Open Product Description