Search results
Concord Foods Smoothie, Banana - 2 Ounce , $1.39
Just Add: 1 ripe banana, milk & ice. Quick and easy to prepare. Our refreshing smoothie mixes are a great way to add fresh fruit to your diet. Concord Foods - the makers of fine products in the produce department. Visit our website for great recipes! www.concordfoods.com.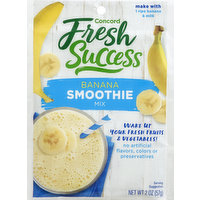 Concord Foods Smoothie, Banana - 2 Ounce
Open Product Description
Dole Smoothie Blends, Crafted, Banana Mango Berry with Refreshing Kiwi - 5 Each , $11.99
Pre-portioned 8 oz. bags. Our Smoothie Blends deliver a delicious artisan smoothie experience like no other, including fruit blends, and blends that combine fruit, vegetables, herbs, and spices. Sun ripened berries, creamy bananas, juicy mango and exotic kiwi are perfectly paired to elevate your smoothie experience from simple to sublime. Reinvent your smoothies routine with Dole Crafted Smoothie Blends. For more than 100 years, Dole has been committed to our environment, our associated and the communities in which we operate. To learn how, please visit dolesunshine.com/sustainability.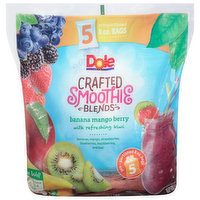 Dole Smoothie Blends, Crafted, Banana Mango Berry with Refreshing Kiwi - 5 Each
Open Product Description